Website | Requirements |
Forums
"Only a bad craftsman blames their tools"
Region:- EU
Guild Focus: Establishing quality members for all content, be it large PvP, or Raiding. All Player types welcome!
Website: Yes
Forums: Yes, with over 40,000 posts.
Discord: Yes
Recruitment Status: OPEN
══════════════════════════════════════════════════
Who are we?
Since 2006, The Dragoon Brotherhood has travelled the MMO world playing anything and everything. From hardcore PvP Games, theme parks, and sandboxes, our close knit Guild has seen, and done it all. After we discovered Ashes of Creation we were overjoyed to find we had a real excitement for the game. While the game is still far away, we aim to do all the content from building, endgame PvP, crazy social gatherings, events, and everything possible!
What set's us apart is our exceptional membership record. We may not be huge, but have a combined membership time length of over 50 years, which spans across 10 years of formation. We are able to retain members like this because unlike the vast majority of modern Guilds, we take pleasure in creating an online "family" where all matter, all come together, and all can form bonds that help us not only achieve our ingame aims, but create real friendships that have traversed even into the real world!
In our community we put a strong emphasis on membership, on respect, teamwork, and solidarity. We maintain a drama-free, yet easy going atmosphere, where every member is not only willing to pitch in, but co-ordinate together to cover all bases, irregardless of Guild size. Ingame terms this means when you play with us, you don't play with randoms, you play with friends. Friends that have trained together, friends that have battled for almost a decade across multiple games, friends that will help you, guide you, laugh with you (and at you), and inevitably, die with you when the gank arrives.
Our ingame goals
Heading into Final Fantasy we bring a thirst for gaming that is unmatched. While small, we hope to grow meeting awesome players who are active, and share our passion for gaming. With this hunger to game, we hope to do all forms of content, and being the best we can be at everything possible!
When it comes to PvP we have a very inviting, open atmosphere that often challenges veteran players, and remains very inviting to newcomers. We offer weekly training nights, tournaments, and we will challenge all types of content be it small skirmishes to eventually challenging for castles. Whether you are a hardcore PvP'er or not, our atmosphere will unify all gamer types and will help you find love for PvP that only we can bring.
Aside from that we will do all the raids in all difficulty modes. While there is a healthy PvP appetite here, and you will be encouraged to try it, if you are not PvP'er, don't worry. We need active, keen Raiders and we will be aiming to do all dungeons and raids possible. As well as this, we want to recruit crafters, roleplayers, socials and more, all unified along the same vision of being "an online family".
Above all expect craziness, events, competitions, gatherings ingame, parties, weddings, and chaos everyday. You will NEVER know what will happen next in our fun, awesome, spontaneous community.
What can you expect?
◙ A Guild that values YOU, for who you are, not what gear you have.
◙ PvP as much as possible, from tournaments and events we host, to outright chaos!
◙ Runs of all content possible, with fun, laughter and no drama.
◙ A tight-knit community void of drama.
◙ Gamers that can kick serious butt, but have a good time laughing while doing so.
◙ Experienced Leadership
◙ Organisation that has been honed over 10 years.
◙ Unique events that will keep you entertained.
◙ All forms of content, from PvE runs, to dedicated crafting.
◙ A populated forums, active vent, and welcoming community.
══════════════════════════════════════════════════
Sounds awesome! How do I join?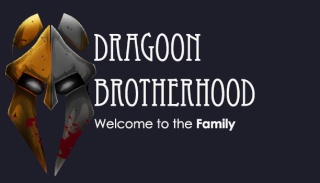 Joining couldn't be simpler, simply follow these steps:-
1) Visit www.always-dragoons.net
2) Read through our Rules, and information found in the tabs at the top.
3) Click the Join Us, and read through the application info.
4) Fill out our application form.
5) Await our response and prepare for a guild that values YOU!
═════
Whatever your choice, thanks for reading our thread, and we hopefully look forward to hearing from you soon!
Mendabar
- Guild Master
_________________
TheHidden01;
The Dragoon King;
"Let your character be your weapon, your fellow guild members be your armour, your blood thirst be your helmet, and use your boots to make a stand. After every battle allow your shield to be your faith in one another, and return from battle either carrying it or resting upon it."
Dorek: hopefully it has ingame voip
Dorek: then you could shout at em
Dorek: besides you sound like a fucking psycho anyway so you would make em piss emselves
Currently Watching:- Supernatural, and Avatar

Similar topics
---
Permissions in this forum:
You
cannot
reply to topics in this forum